A comprehensive guide to open banking
The banking industry has undergone a major digital transformation over the past years, and the traditional banking concentration is slowly ceasing to exist. An ample of regulatory initiatives, the most recent of which is referred to as open banking, helps to replace an old and rusty way of managing money with more unique online services or mobile applications.
Such a revolution allows every player in the financial sector to better manage their finances, make informed decisions and use innovative financial solutions with transparency and trust.
Let's discuss your project and see how we can launch your
digital banking product

together Request demo
What is Open Banking?
Essentially, it is when banks enable regulated trusted financial providers and third-party payment services to access, use and share a customer's data. Banks can exchange information such as transactions, payment history, and much more. In other words, the customer's data is open to everyone.
And if you are wondering, no one will share your bank credentials without your consent. National banks have developed a regulatory approach to build the data sharing framework and implement it in financial services without friction and much effort. This practice is possible by using application programming interfaces (APIs).
---
What is API?
As you might have understood, banks are revolutionizing the way that they generate value by embracing an open-banking approach with the use of APIs. What is an API actually? Essentially, it is like a set of routine protocols that grants access to a bank's services to other third-party companies.
Data allows fintech to offer more innovative solutions and services that meet its customers' needs. It enables companies or brands to connect more seamlessly with the consumers and ensure their satisfaction.
An API robust ecosystem is an integral part of data exposure, exchange, and performance. Using it within banking allows you to accelerate the data sharing process, promote connectivity and endless integration possibilities.
Crassula Banking API documentation allows you to build your own alternative and better services connected to your version of the Core Banking, whether it be a mobile application, additional services or interface for your existing product. We ensure that we are working with an up-to-date, accurate view of all the data and integrate it into your future product and help you develop embedded banking services in it.
---
Open banking solutions and trends
PSD2/PSD3
To put it simply, PSD2 is a European regulation for e-payment services designed to directly access online payment service users' accounts with their consent through a dedicated interface built on APIs. The PSD2 measures are designed to open up the bank industry to new players and promote the development and use of innovative online services while ensuring consumer protection.
The Tink platform aggregates PSD2 data through reliable connections to European banks and financial institutions. And so, they build projects operating under their DSP2 license.
Embedded banking
Embedded finance is the inclusion of financial solutions in a company's portfolio that does not have a main activity in the financial market. Thanks to this technology, companies from different sectors can be in the role of a bank, providing personalized services that are much more adjusted to the expectations of their consumers.
Using your own brand name, you can create your own digital bank connected to Banking-As-a-Service and deploy numerous services in your product, such as a digital account, credit card, and loans.
---
Benefits of Open Banking
Improve customer relationship
Open banking stimulates companies to offer a qualitative and personalized experience to each individual customer. You will no longer have to make them fill out endless questionnaires or ask for consent to access specific information.
Thanks to open banking, you can get in touch with a new client and have all the required data you need to answer concrete questions or requests concerning them. Moreover, by acquiring a digital bank solution, your customers will have greater control over their expenditures.
They will have the chance to make decisions about their investments and credit card spending, manage their money, and track their current account with one click. Everything from a single interface. Believe it or not, but such convenience of service will help you retain and even attract new customers in a short period.
Grow financial inclusion
Open banking makes it possible to offer a truly comprehensive range of services to your customers. You can go beyond the services provided by your bank by creating all the partnerships necessary to provide the best financial solution to your customers.
One of them is the ability to use bank services built into the client workflow / third-party applications or devices. Indeed, this will let you conquer new markets and create partnerships with services that the bank did not yet offer.
Expand product offerings
The open-banking ecosystem promotes the significant emergence of personalized offers to serve consumers and meet their expectations. The data enriches the knowledge of user needs that helps new techs personalize services.
They learn different subtleties associated with the consumers' demands in the financial industry and find creative ways to release an excellent bank app or offer a bank solution.
The core open business provides financing, gives our professional, corporate, and individual customers the possibility of benefiting from means of payment, and guarantees the security of their data.
Overcome the industry barriers
Looking back at the past of banking, consumers owning a bank account with all their data were utterly dependent on the financial institution they were in. Now, small and medium-sized businesses can enter the financial sector without the hassle of collaborating.
Having obtained the sharing of the consumers' transaction data, open banking lets fintech communities build new and more affordable alternatives to traditional financial services or products. There are fewer restrictions or barriers and, as a consequence, more opportunities.
---
Is open banking the future of conducting business?
Open Banking is fundamentally changing the financial landscape, and it deserves to be taken seriously. Currently, as the number of bank branches shrinks and the role of technology accelerates, businesses have a lot to gain by setting up open banking functions in their products.
---
What businesses and projects can benefit from open banking?
It is for businesses of all sizes. Whether you are running a large bank, managing a growing fintech platform, or a small business, it will be a win-win situation for you.
Crassula and our providers can introduce you to the most diverse financial solutions and unlock open banking opportunities with the minimum budget and qualitative support.
Would you like to move from traditional branch-based banking to open alternatives? Pick the right platform.
---
FAQ
Open Banking is a system, in which banks and other financial institutions share customer data with regulated third-party payment providers via API technology. Exchanging various types of data allows banks to offer more products and services to their customers and push the envelope in the competitive market.
Through Open Banking, different transactional data can be open to TPPs. It includes account balances, transaction history, payment details, loan details, credit card information, mortgage terms, and more. Additionally, Open Banking allows the sharing of customer information, such as personal details, contact information, and account ownership. It's worth noting that no customer data is shared with other parties without consent, meaning only customers can authorise the bank to grant access and revoke it at any time.
The key technology that facilitates the exchange of customer data and functionalities is APIs. It ensures a standardized and secure environment for connecting different systems and deliver innovative and personalized Open Banking services to clients.
Open Banking dismantles barriers that traditionally separated competitors, paving the way for a more collaborative environment. Thanks to it, banks can pool their expertise and resources, combined with the robust technology and regulatory practices of providers, resulting in the creation of more sophisticated and inclusive financial services. This ecosystem indeed empowers financial institutions to develop new apps and services tailored to specific customers' data.
Third-party providers act as intermediaries between the bank's customer and the bank itself. They use customer data obtained via the APIs on behalf of the customer and provide a secondary public interface with which the end customer interacts.
Open Banking solutions offer a wealth of customization possibilities for banks, including front-end design, user interface, and overall user experience. APIs allow for seamless data exchange, interoperability between different platforms, and the building of build hyper-personalized experiences without disruption of the underlying infrastructure.
The pricing range for an Open Banking solution can vary depending on the provider and the specific services in their assortment. Usually, the price includes upfront implementation costs, subscription fees based on usage or transaction volume, and extra charges for value-added services or customization inquiries.
It takes financial institutions several months to a couple of years to realise its open banking objectives. The complexity of this transformation lies in regulatory challenges, technology integration, and the specific goals of the fintech.
However, Crassula has got you covered. We can help your business accelerate the process of building comprehensive banking as a service in a short period, taking into account all your business objectives and the vision of the end product.
The use of open-source technology promotes transparency, encompassing both open and private data. Moreover, the implementation of PSD2 regulation and other measures ensures the protection of customer data from unauthorized access, safeguarding the privacy of customer information. This enables third-party developers to build Open Banking solutions in compliance with stringent security standards and the fundamental principle of an open bank network.
From one side, Crassula offers its customers a fully compliant PSD2 Open Banking solution as a module connected to the Crassula core. PSD2 module by Crassula is able to provide third-party open banking developers eligible access to clients' account data along with payment initiation capabilities.
On the other side of the spectrum, Crassula leverages trusted 3rd party providers to access account data from banks across the EU and UK. This strategic partnership enables end clients to initiate payments effortlessly from their accounts held at 3rd party banks, all while adhering to the compliant PSD2 payment initiation service
Create a digital bank in a matter of days
Request demo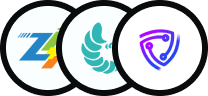 150+
companies already with us
Top