KYC/KYB Onboarding
With Crassula automatic KYC/KYB checks, client profiles, documents storage and much more, you can always be confident in your private and business clients
Verification and Limits
No matter what level of cautiousness is suitable for your business, Crassula will help you in setting relevant client or business verifications and flexibly limit customer operations.
Customer Questionnaires
Assess customer risks more easily by requesting extra data and documents through Crassula's customer questionnaires
Ongoing Customer Monitoring
Keep information about your applicants up-to-date with changes to sanction lists and watchlists across the globe. Get reliable data from trustworthy sources, reducing manual labour and protecting your business from crime.
Online Transaction Monitoring
Fight financial fraud and stay up to date with day-to-day compliance. Crassula's system facilitates the management of individual user-profiles and the screening for the potential risks associated with money laundering, fraud, tax evasion, and other financial crime.
Notifications
Never miss a thing with Crassula's convenient notifications on new customer verification or transaction pre-approval, expiring documents or new messages.
PCI DSS 1 Level Security
Be confident in the security of your business. Crassula holds PCI DSS level 1 with yearly audits and regular penetration tests, quarterly internal scans and system updates.
Create a digital bank in a matter of days
Request demo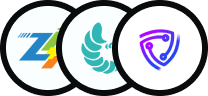 150+
companies already with us