Money20/20, the most spectacular #FinTech industry event, is on 🔥 and we are thrilled to be a part of it.
Book a meeting
Sumsub
One verification platform to secure the whole user journey. Build a perfect onboarding flow for your customers. Verify anyone, stay compliant anywhere, and deter any fraud, lightning-fast.
SumSub products are seamlessly integrated into Crassula White Label iOS, Android and Web apps. Processes and documents are managed with Crassula KYC module allowing you to build transparent and reliable compliance flows.
Create a digital bank in a matter of days
Request demo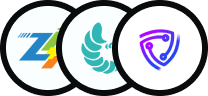 150+
companies already with us